Rates are 40-55 euro per person sharing, depending on specific bedroom and season. Rates include bed and breakfast, as well as free WiFi and use of the house sitting rooms and gardens. See our policies for more details.
BEDROOMS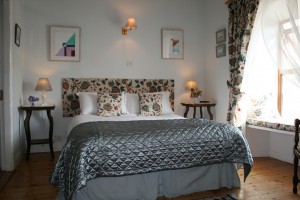 Sea Mist House offers a handful of cosy and spacious, high-ceiling bedrooms to accommodate couples or small families, each tastefully decorated in its own style and charm.
All rooms are en-suite with private shower. You'll find WiFi, hair dryer, radio, bottled water, as well as everything you need to make tea & coffee, but no television—the TV and an extensive DVD collection reside in the main downstairs sitting room.
SITTING ROOMS
Sea Mist House B&B offers two cosy sitting rooms on the ground floor, each with wood-burning stove or fireplace for taking the chill off an evening or simply warming the soul. Décor includes original works of art and items both old and new, lovingly collected over the generations.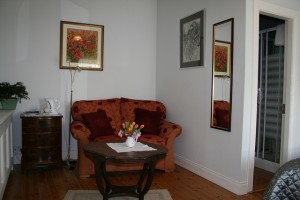 The main sitting room is home to the flat screen TV and DVD player, as well as an extensive DVD collection and an open fireplace. The second sitting room provides a quiet space to curl up with a book or to chat about the day's discoveries. There is also a quiet reading nook one flight up from the ground floor, complete with a deep-cushioned armchair, large window, and a good selection of books.
BREAKFAST ROOM
Breakfast at Sea Mist House B&B is a treat for the eyes, as well as the tongue. Windows on two full walls of the breakfast room bring the light and flower-filled views of our front patio and side cottage gardens in to join you at your breakfast table.
The ambience is warmly intimate, with traditional Irish crockery and china to complement your wide selection of tasty and satisfying breakfast choices.
GARDENS
Most likely, the gardens are how you'll spot Sea Mist House B&B when you arrive your first time in Clifden. Flowers and vines cascade from the house and hillside in a vibrant riot of blues and reds, oranges, violet and crimson, amidst shades of green.
Spring tulips, perennials, palms and lobelias all vie for attention in pots and beds on the front patio, surrounding the natural sun-trap of our sitting area.  Yellow and peach-coloured roses climb the stone façade together with the clematis vines and mingle their blooms of white and wine with the roses.
A cottage garden filled to overflowing with poppies, roses, grasses, and rocket—plus much more with each passing week—follows you around the side of Sea Mist House, past the windows of the breakfast room, up the steps to a hillside terrace with table and chairs, secluded from passers-by on the street below by a privacy hedge. Further up the hillside, below the steeple and grounds of the church, you might hear the content buzzing of our bees or the clucking of our hens, getting their part of tomorrow's breakfast ready for you.